Whether you are traveling on business or holiday, a choice of the best luggage case is crucial to protect your stuff. With many options on the market today, it can be difficult to select a suitable one. However, one can get a convenient option with the right tips. The following tips will help you achieve the best.
Tips for buying the best travel suitcase
Check the size
Convenient travel is about striking a balance in the size of the luggage case you carry. One that conveniently takes all you need for the stay is a better option. Thus, one needs to consider the size with caution. A too big choice will not only inconvenience in the carriage but can disorganize the arranged belonging due to unutilized space. On the other hand, a too small option may force you to leave out some items or carry second luggage.
The exteriors
Today, the manufacturers have gone a step further to provide extra protection to your staff by creating the hard shell suitcases. However, either hard or soft option have both pros and cons. The soft bags can fit well into compartment if you are on a freight most of the time while the hard ones will offer protection if you are anticipating to use have it stacked in common cabins during travel. This is a debatable issue to be left to preference, though.
The interiors
Most business people will travel more with documents, electrical devices and computers than clothes. Therefore, a suitcase with organizer compartments will keep them in position. However, people on holiday will need more clothes thus one with a large inner space will work better. Therefore, buyers must inquire about the interiors to avoid disappointments on the packing day.
The wheels and handles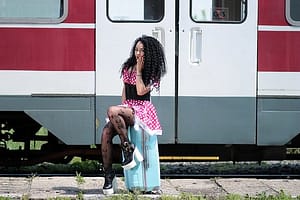 It would be logical to argue that a big suitcase will need larger and stronger wheels and handles. However, all bags need to have them strong enough to withstand all the pressure and strain. Ones with a smooth roll will offer an easy maneuverability along the busy airport terminals or hotel corridors.
The price tags
Finally, the price tags need to be pocket-friendly not to eat up the budget for other things. With numerous web shops these days, it is easy to make a price comparison from various vendors. Avoid the cheap ones as they will tend to disappoint. Go for value for money rather.