Have you ever been to El Nido, Palawan? If not, you do not know what you are missing. This is where the earth meets the heaven. The fun, the sights, the weather and food: all should be enough for you set sail today and be on your way to this earthly paradise. However, before you do that, I want to give more reasons to come here expecting nothing less of perfection and the best lifetime holiday. Top attractions in El Nido are all that you need to be convinced to come here and stay quite longer than you had planned. If you doubt, just continue reading.
Top Attractions in El Nido
Calaan Bay
If you have never seen the sun rising or setting very near to you, here is the place to be and witness this carefully. That is not all; if snorkeling is your game then here, you can never have enough of it. You can go under water and observe sea life with your naked eyes.
Mike's Point for surfing
If you have always wanted to surf but never got the place, Mike's point is your must-visit place. All that you need for thrilling surfing is at your disposal. You came with little or no mastery in surfing, but you will leave a master.
Nightlife at its best
With countless top-end restaurants to wine and dine, your night and day will be like a roll coaster. Of these, the Sky Inn is top of the charts for both food and entertainment. Acoustic bars will be a good choice to see the night crawl into dawn. Sample El Nido Art Café and Sea Slugs and you always want to have one more night here.
The Unique Cuisine
El Nido is famous for its food and drink. It is nothing you have tasted wherever you have been. From Nido Soup to seafood, your appetite will always be at its best. There is a lot to eat and drink, and it will be all nothing you have had before. If you still want to stick with what you know, there is pizza and the other lot of food from every corner of the world.
Nagkalit-Kalit Falls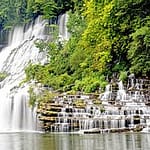 Pure nature is what makes this place a must-visit for you. Here the falls have a hot spring, and you can have hot shower coupled with a cold-water breeze. Here you can observe nature up close.
You will never go to El Nido and not come back. There is a lot to see and do that you can never exhaust in one visit.